Welcome to our new Online Viewing service!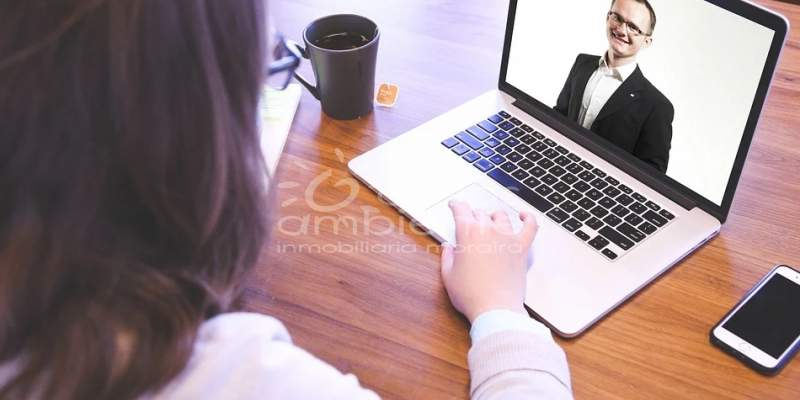 At CASAS AMBIENTE we are always at the forefront of technology applied to the real estate sector. Now we offer you our new service of virtual visits to properties, a new way of visiting properties that allows you to comfortably find your holiday home in Spain.
In the last few months video chat applications have taken root in our way of life and we use them regularly to:
Contact friends and family
Hold business meetings if you are teleworking
Visiting professionals: doctor, lawyer, consultant, etc.
Your children's online classes
Videoconferences, bureaucratic procedures, various events ...
In a very comfortable and simple way you have become familiar with Skype, Zoom, FaceTime, Whatsapp ... and you can solve favourably and remotely many issues of great relevance that, until very recently, you had to deal with in person.
In CASAS AMBIENTE we also want to offer you the possibility to visit us virtually and listen to you while you tell us what are the characteristics you demand from the house you want to buy in Spain. We will draw up a profile of your type of property and we will offer you a studied selection of those properties that may suit you. We will then be happy to arrange an online appointment for a virtual viewing of the properties you are interested in.
How are online viewings different from the Vista 360 service?
In addition to the online visits, CASAS AMBIENTE also offers you the Vista 360 service, which is another option different from the online visits. On our website you will see that some of our homes have a Vista 360 virtual tour, which you can access whenever you want, at any time and from anywhere, to visit the house as many times as you wish, show it to your family, check details, etc.
On the other hand, our online guided tours are "almost" like a visit in person. You have to make an appointment with the real estate agent beforehand and, on the appointed day, you will connect virtually to visit the property you have chosen in real time. The real estate agent will show you all the rooms of the house using a video chat application while explaining its features and answering all your questions.
This system of virtual visits has the advantage that, in a short space of time and comfortably from the sofa of your home, you can visit the house you are interested in buying without having to travel from your country of origin to Spain to visit the houses in person, which means an important saving in time and money (you need a few days off to carry out the visits and spend money on the flight, hotel, restaurants...).
How can you arrange Online Viewings to visit our properties on the Costa Blanca?
If you are interested in visiting any of our properties on the Costa Blanca, it will be very easy to arrange our online visits. Click on the red button on the right hand side of our website and a drop down menu will appear. Fill in your details specifying how you prefer to make your virtual visit: Skype, WhatsApp, FaceTime or Zoom and we will contact you to confirm the date and time requested.
If you prefer, do not hesitate to contact us by the usual means. We will be happy to answer all your questions. To do so, choose between.
Fill in the form that appears on our web site
Call us on +34 966 498 595
Send an email to contact@casas-ambiente.com
Our offices are located at Avda. de la Paz, 10 Bajo - 03724 Moraira (Alicante) Spain.