In our garden bungalows in Moraira, the sun and the sea breeze are part of your home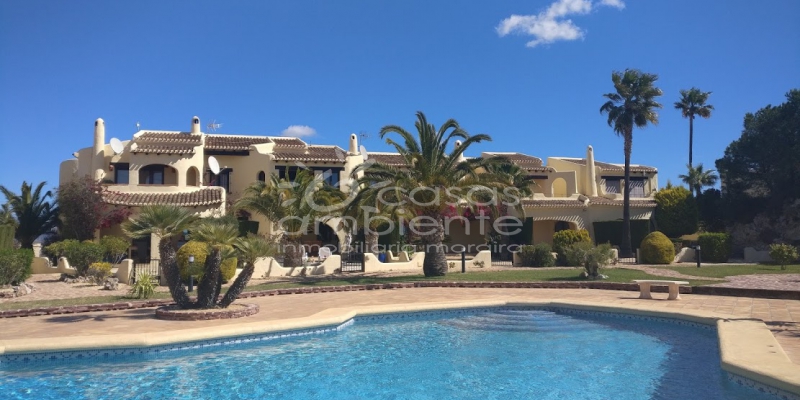 The last few months have helped us to rediscover our own house and perhaps, with the experiences we have lived, you have changed your concept of ideal housing. If you now want a larger house with more open spaces, our bungalows with gardens in Moraira will allow you to enjoy a brighter home with outdoor areas, where your family can enjoy a healthier life.
Telework has come into our lives to stay. In many cases it will be a very interesting employment option. In Spain, this possibility is now becoming established, but in Europe, it is already well established. This circumstance is decisive when choosing our home: we will no longer need to put proximity to the workplace as an essential feature of the home. In this case, we could change the busy urban centres for other search parameters that will allow us to have a healthier lifestyle, with sunny, spacious houses surrounded by natural surroundings. So why not live near a wonderful beach on the Costa Blanca?
Living on the outskirts of large cities, or in areas known as second homes, allows us to access more comfortable homes, even with an extra stay to use as an office. You will discover that the location of these beautiful residential environments with communal gardens and swimming pool, are very suitable for children to have more space to play and interact. In addition, they are equipped with all the features we currently need to live comfortably. Among the main characteristics, we can highlight the fiber optics, necessary for teleworking and an excellent connectivity with urban centers.
Now you have the option of living on the Costa Blanca: visit our garden bungalows in Moraira
CASAS AMBIENTE invites you to visit our garden bungalows in Moraira. Using our VISTA 360º service you can take a virtual tour of many of our homes without having to go there personally. You will be delighted to find the perfect home for your family quickly and comfortably. Moraira is the ideal place to live. You will enjoy its idyllic beaches and beautiful cliffs under the bright sunshine that shines all year round. Moraira is a modern town with all the services you need and easy access to the nearby airports of Valencia or Alicante.
Our bungalows in Moraira are located in the areas with the highest demand for real estate: Benimeit, La Sabatera, Fanadix, La Camarrocha, ... They are built with top quality materials. They have a small private garden that will allow you to play with your children, sunbathe in a relaxed way, gather your family around an exquisite barbecue, etc. They also have common areas with a swimming pool, solarium and spectacular gardens.
CASAS AMBIENTE makes it easy for you to buy our bungalows with gardens in Moraira
If you are interested in receiving more information about our garden bungalows in Moraira, don't wait any longer and call us. I'm sure you will find the property you are looking for on our website. Don't forget to visit the exclusive properties we offer. At CASAS AMBIENTE we speak fluent English, German, French, Spanish, Dutch, ... and we will take care of all the paperwork related to the purchase of your new home on the Costa Blanca.
Choose the most convenient way to contact us and we will provide you with extensive information about our garden bungalows in Moraira:
Fill in the form that appears on our website
Call +34 966 498 595
Write an email to contact@casas-ambiente.com
Visit us personally at Avda. de la Paz, 10 Bajo - 03724 Moraira (Alicante).